Women's Golf Week at Treetops Resort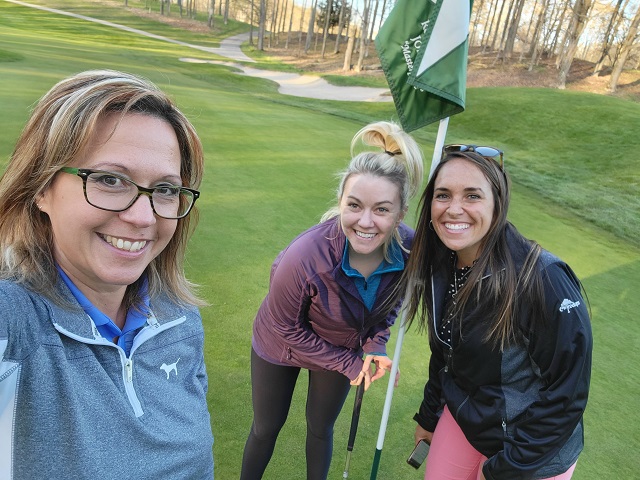 Treetops Resort knows that over six million women played golf in the United States last year, and the number of junior girls who identify as golfers has doubled since 2000.
That's why the popular resort in the heart of the Gaylord Golf Mecca is celebrating female golfers with Women's Golf Week June 1-5 with discounted golf, private lessons, and gorgeous gear from the pro shops for the women who make Treetops and the Mecca their golf destination of choice. Beginners are welcome, too. This is a perfect time to try what your friends have been talking about. Come on, try it with your friends.
First off, on June 1 and 2, Tuesday and Wednesday, Treetops is offering discount golf for women only on the Tradition course. It's just $45 for 18 holes will cart. Tee time reservations are required.
On the morning of Thursday, June 3, there are two discount deals for women – $35 rounds on the famous nine-hole par 3 Threetops course, and more $45 rounds on the Tradition. Be sure to reserve those tee times.
On June 4, Friday, Treetops is presenting a FREE Group Lesson Golf Clinic for women from 10:00 – 11:00 a.m. at the Jones Practice Range. To arrange to be part of it contact PGA Director of Instruction Steve Scheuermann at 989-350-0533 or sscheuermann@treetops.com .
All through the week, June 1 through June 5, discounted private lessons are being offered as well. It's $45 for a private lesson, or $30 per person for a one hour lesson with friends or family members. Appointments are required through Steve Scheuermann 989-350-0533 or sscheuermann@treetops.com.
And shopping in the pro shop is special during Women's Golf Week, too. All through the week, golf merchandise, excluding golf clubs, is on SALE in both the Jones and the North Pro Shops. The sale – a wonderful 20 percent off brand names like Antigua, Under Armour, Adidas, Levelwear, Ahead/Kate Lord, Puma, Footjoy and many more.
Find out more by clicking here or call (877) 724-1083.  Learn more about the Gaylord Golf Mecca at gaylordgolfmecca.com.