Junior Golf Programs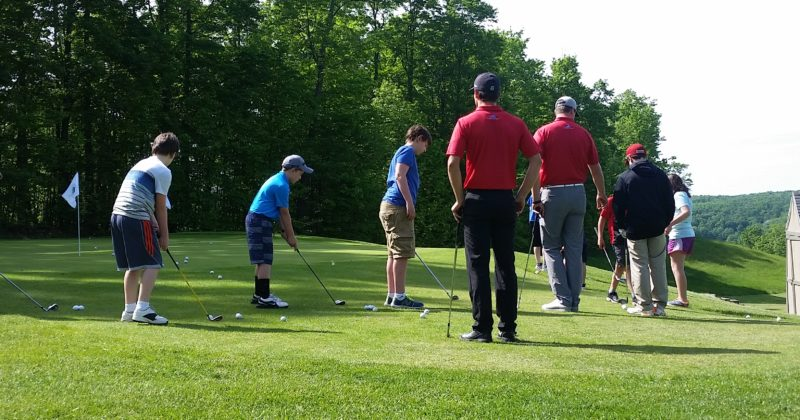 Gaylord Area Junior Golf GAJUGA
The mission of the Gaylord Area Junior Golf Association, (GAJUGA) is to provide junior golfers in the Gaylord and surrounding areas a good foundation in the game of golf including the swing, rules, professional instruction and etiquette. GAJUGA is open to juniors ages 7-17.
Membership for the 2023 season is $75 per person. This includes a tee gift, eight instructional clinics, five "on course" golf events including greens fees and "Family Fun Night."
Registration takes place May 3rd at the Michaywe Pines Course and the first lesson is May 10th. Lessons will be taught by the staff from the First Tee of Northern Michigan.
Please complete and return the registration form below to participate. You can reach GAJUGA at 989-939-8911.
Youth On Course
The Youth on Course Foundation provides affordable golf to kids ages 6-18. Golf teaches important social, mental, and physical skills and each round is filled with learning potential.
Youth on Course membership provides kids with access to affordable golf. Youth on Course members play golf at hundreds of participating courses for $5 or less.
Participating Gaylord Mecca Courses include: Michaywe Pines Golf Course, Treetops Resort, Gaylord Golf Club, The Natural and Indian River Golf Club
PGA Junior Golf League
A PGA of America Growth of the Game Initiative that has taken the country by storm is PGA Junior League. The program includes PGA coaching as well as a 6-match season. In addition, the kids who are a part of PGA Junior League will receive free golf on the Tradition and free range balls on any midweek day this season (based on availability). Each junior golfer will receive a numbered team shirt, a bag tag and PGA instruction. The format is perfect for players of any skill level and gender from age 6 – 16. Following the season, an all-star team will be selected to compete, representing Gaylord at the state level with a chance to qualify for regionals and ultimately nationals.
Junior Golf Instruction Opportunities
Judy Mason, Head Golf Professional – Michaywe The Pines
More Info | Email
Steve Scheuermann, PGA Director of Golf – Treetops Resort
More Info | Email
JT Aude, PGA Golf Professional – Gaylord Golf Club
More Info | Email
Kevin Henley, Director of Golf – The Natural at Beaver Creek
More Info | Email
Junior Employment Opportunities
Michaywe Pines
Please contact Judy Mason at 989.839.8911
Caddie Program
Gaylord Golf Club
Please contact JT Aude at 989.546.3376 or Email
Practice Range and Starter
The Natural at Beaver Creek
Contact Kevin Henley at kevin@thenaturalgc.com
Cart Attendants
Looking for more than just a lesson? Children can also take part in a golf camp experience.
Caddie Opportunities
In golf, a caddie is the person who carries a player's bag and clubs, gives insightful advice and provides moral support. A good caddie is aware of the challenges and obstacles of the golf course being played, along with the best strategy in playing it. This includes knowing overall yardage, pin placements and club selection.
There are numerous benefits to playing the game of golf with a caddie. The Michaywe Pines offers the perfect style course to play golf the way it was intended ~ with a caddie!
Michaywe is excited to be training caddies and having them available to golfers on a limited basis in June, July and August.
Email Judy Mason if you would like to apply for a caddie position.
Parent & Child Events
The Natural at Beaver Creek Resort
Parent/Child Evenings
Children 17 & under play free with paid parent after 4pm.
Walking available for juniors that are in GAJUGA, or a GAM member after 4pm. Call 989.732.1785