National Travel & Tourism Week's Perfect Destination:
Gaylord Golf Mecca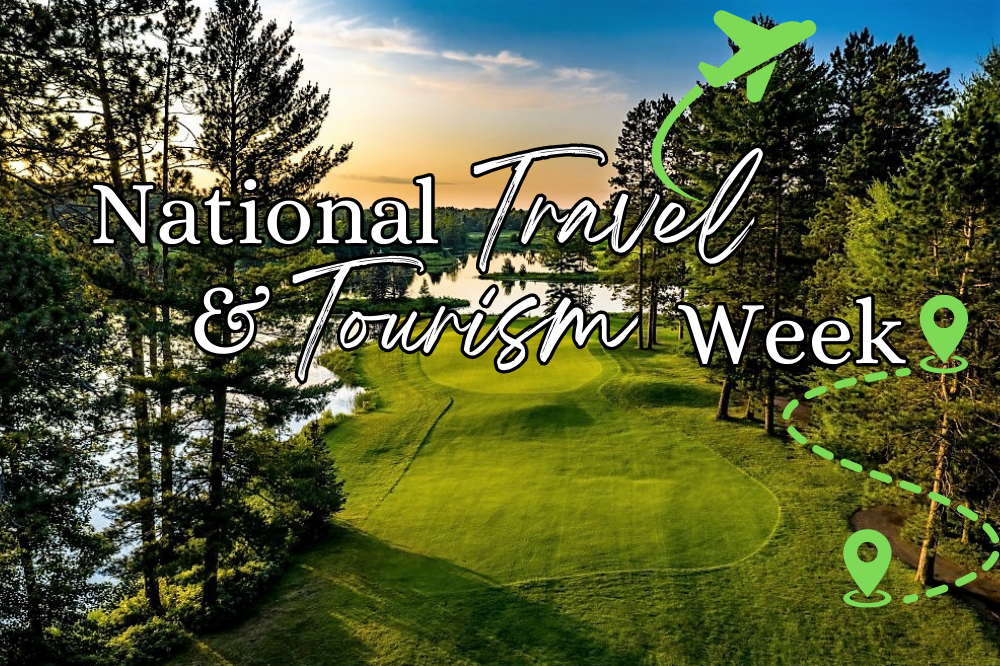 By Greg Johnson
It's a combination of perfect timing and the perfect place.
It's National Travel & Tourism Week across the country and here in the Gaylord Golf Mecca our fabulous collection of 17 golf courses are open and welcoming golfers. We are America's Summer Golf Mecca, a 36-year-old cooperative marketing effort for an incredible collection of golf and more.
And then there is everything else that makes the Mecca, in the heart of Northern Michigan, the perfect travel destination.
Our 21 lodging partners offer places to stay of every type, from rustic to luxury and all points in between at all price points possible, too. Hotels representing the nation's top brands partner with us locally, and will help you book golf, too. Pick your favorite – Comfort Inn, Fairfield by Marriott, Hampton Inn and Baymont by Wyndham are just a few.
You can also check out the remodeled chalet units and variety of rooms available at Treetops Resort, or the options designed perfectly for groups at Otsego Resort. Pine-Cone Vacations partners with us, too, and offers vacation home rentals for small and large groups.
Of course, you must eat and the dining available at our member golf properties is diverse and excellent. Then you add in the multiple options in the Gaylord area. It's possible to visit for just the dining alone.
Local favorites include Alpine Tavern & Eatery, a cool gathering place with a great menu and Big Buck Brewery, which has the brews, eats and room for big groups. Bennethum's Northern Inn is a family-owned classic featuring high quality cuisine in a rustic yet refined environment. Michaywe' Inn The Woods will wow with its Northern Michigan inspired menu. The list of places you must try for dining is longer than any possible trip.
Want more than golf, food and lodging? Fishing, cycling, hiking, swimming, boating, kayaking and more are nearby and designed for the destination traveler.
Of course, the golf in the Mecca is perfect and it is part of our name. The longest of summer days, uncluttered greens and pristine natural beauty carved by the glaciers long ago form a foursome of sorts with each golfer. Multiple skill levels of the player are easily accommodated as well.
Among the 17 options for golf is the timeless design where you can walk or ride at Indian River. "The best greens in Michigan are at Gaylord Golf Club" is a regular reaction from visitors. The pure Northern Michigan environment of towering trees and green glory is perfectly offered by The Natural at Beaver Creek Resort. Golf course architects Tom Fazio, Robert Trent Jones Sr., Rees Jones, Rick Smith, Jerry Matthews, and the legendary Wilfrid E. Reid among others have carved their inspirational artistry through our Northern Michigan woods.
It's all perfect: Great golf, delectable dining choices, hunting, fishing, boating, swimming and more during National Travel & Tourism Week and a bunch of other weeks throughout the year.
Visit gaylordgolfmecca.com and check it ALL out. It's the perfect week for it.