Gaylord Golf Mecca Thanks You, Our 2022 Visiting Golfers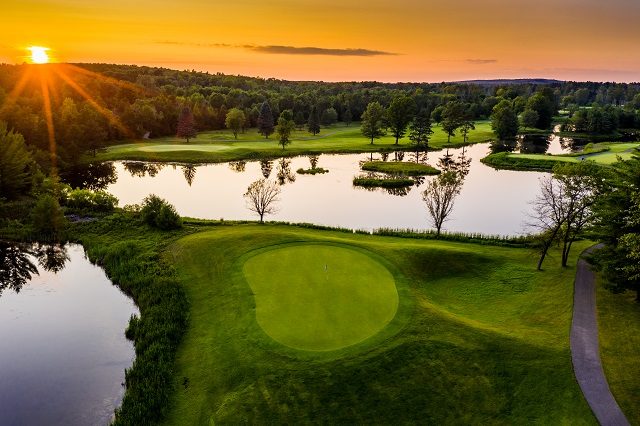 By Greg Johnson
Golfers have been coming back to the Gaylord Golf Mecca for 35 years, including a recently concluded banner 2022 season, and are already booking for year 36 in 2023.
The Mecca started as a cooperative marketing effort for its collection of golf in 1997 and marched onto the destination golf scene with classic courses, new modern masterpieces and more. In 2022 the Mecca included 17 golf courses and 21 lodging partners and by all accounts it was a busy and super spring, summer and fall of golf.
Lakes of the North Golf Course, Black Lake Golf Club, Gaylord Golf Club, Indian River Golf Club, Michaywe – The Pines, The Natural at Beaver Creek Resort, Garland Lodge & Golf Resort, Otsego Resort and Treetops Resort are the sites of the 17 current member courses. A hearty thanks goes out to the familiar faces, and many new faces, who came to our Mecca places. Come on back in 2023. We'll have the golf ready for you.
We remain easy to find, in and around I-75 in the heart of the northern Lower Peninsula of the great mitten-shaped state. We're 175 miles from Lansing, 180 miles from Grand Rapids, 230 from Detroit, 300 from Fort Wayne, 385 from Cleveland, 415 from Toronto and 425 from Indianapolis. The Gaylord Golf Mecca, the Gaylord Area Convention and Tourism Bureau and the Cherry Capital Airport in Traverse City have had great success bringing golfers from southern states like Texas to Michigan via non-stop air service between Dallas/Fort Worth and Traverse City. Other major cities around the country now hook up with Cherry Capital, too.
When those golfers go home, they rave about us, too. The unmatched Mecca golf collection has a great ever-growing reputation built on pride in presenting a wonderful golf destination.
The greens at Gaylord Golf Club remain perfect. The Pines course at Michaywe offers a parkland style treasure. The Natural takes you into the serene natural Northern Michigan woods. Lakes of the North will give you that relaxed feeling of a great trip up north. Otsego Resort has The Classic course for family fun and The Tribute that is a tribute to the joy of playing the game. Black Lake Golf Club will simply wow you with an award-winning design and more. Indian River remains the friendliest of places with a great golf course. Garland is meticulously perfect and welcoming with four wonderful courses to play. Treetops Resort is rich with world-class golf, including four championship courses and the best par 3 course anywhere.
Thanks again for making 2022 so great. The Gaylord Golf Mecca promises to move forward as the premier U.S. summer golf destination in 2023. You, as always, are invited to come along for the ride once again or even the first time!
Visit gaylordgolfmecca.com. It's never too early to book a first trip or a trip back to the Mecca.