Bunker Makeover Helps Michaywe' Pines Prepare for 50th Anniversary Year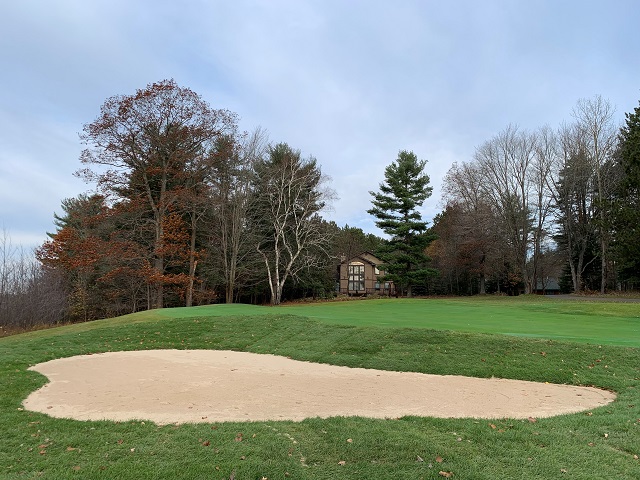 By Greg Johnson
The Pines at Michaywe' will celebrate 50 years of providing great golf days in 2022.
Designed by Don Childs in the early 1970s and renovated by him almost 20 years ago, it remains a favorite Gaylord Golf Mecca stop and was one of the original Mecca members almost 35 years ago.
And it just had a bunker makeover, too.
Repaired bunkers across the golf course and 50th Anniversary celebration promotions will welcome golfers back to what many consider a wonderfully pleasant round of golf in the park.
The Pines is part of the welcoming Michaywe' four-season residential and recreation community in Gaylord.
Childs designed a parklands style course that is tree-lined, walkable, pretty, accommodating with six sets of tees, and fun to boot. Here's the thing, it can be all the challenge a more talented golfer needs as well. The Golf Association of Michigan has chosen it twice over the years to host the best golfers in the state in the Michigan Amateur Championship.
The Pines has been pleasing golfers for 50 years, which is a credit to Childs and a credit to head golf professional Judy Mason. We won't say how long Judy has been around, but she and her staff have maintained a level of excellence on the course, as well as in service, smiles and more for many years.
"We will have events and promotions tied to the 50th anniversary and have fun with it," Mason said. "We have loyal golfers and members from our community here we want to thank, and loyal visitors who come back, too. Of course we always welcome new Mecca golfers to our course. We know once we get them here they will want to come back."
The Pines offers something a little different from its Mecca counterparts at the big resorts where dramatic elevation changes and vistas abound. The Pines has one of the most walkable courses with gentle terrain and is serenely beautiful. Some great dogleg holes keep it especially interesting in terms of golfer strategy.
In the spring golfers will notice significant improvement across the board in the bunkers. From Oct. 12 to Nov. 12 a bunker repair project was completed by Michigan-based Dozer Construction and well-known golf course shaper Doug O'Rourke, a.k.a. Dozer Doug.
"He improved them, especially the greenside bunkers, to make them more sustainable in terms of maintenance and in the process made them more playable, reshaped them to be better looking, you name it," Mason said. "We can't wait to show them off next spring."
We'll keep you filled in on Michaywe's 50th Anniversary plans as we head into the 2022 golf season. Visit gaylordgolfmecca.com for more on Michaywe and our other 16 outstanding courses.