The Pines at Michaywe,' Perfect for Champions, Perfect for Everybody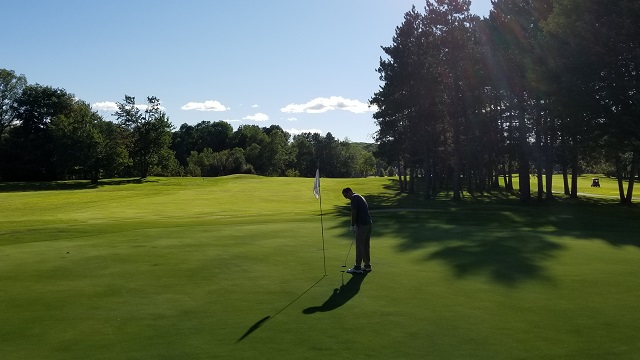 By Greg Johnson
Michigan golf legend Pete Green won his fourth Michigan Amateur Championship in 1996 at the age of 55, and he won it on The Pines at Michaywe' golf course in the heart of the Gaylord Golf Mecca.
It was a classic player winning on a classic course in a classic golf destination that has hosted the state championship twice (1991 and 1996).
"I really like this place," he said in a post-round interview with the media. "The course is great. It's a challenge with great holes, it's in great condition, great greens, and it's enjoyable to play. Of course, it helps when you are making putts like I did today."
Green, who is in the Michigan Golf Hall of Fame, had just beaten a young golfer from Mount Pleasant named Doug LaBelle in the final match.
Green went back to Franklin and Orchard Lake Country Club and continued to be a top senior golfer in Michigan, and his daughter, now Suzy Green-Roebuck, became an LPGA player and has joined her father in the Michigan Golf Hall of Fame.
LaBelle, meanwhile, went on to a long PGA Tour career. He's sure to be ticketed for the Hall of Fame one day, too.
The Pines, meanwhile, remains a classic course that has helped identify great champions, tour players and Hall of Fame golfers. If they had a Hall of Fame for courses in Michigan, it would be a shoo-in.
Don't get the idea it's just for Hall of Fame players either.
The best part is that visitors to the Gaylord Golf Mecca get to play The Pines and make it part of their vacation packages.
Here's the key thing: The Pines features six sets of tees with distance ranging from 5,200 yards to 7,040 yards. Golfers of all abilities can play it just like Pete Green, only from their manageable distance. We can't guarantee you will putt like Pete, but the greens roll true and smooth year after year.
The Pines is only missing you. Did we mention how tranquil and nice it is among the pines at The Pines? A branch of the Au Sable River calmly winds through it, and a visit feels calming and is a perfect place to unwind.
It's one of 17 special golf courses in the Gaylord Golf Mecca collection. Pete Green said last year that he planned to visit next time he was up that way.
"Good memories," he said.
You may not make the Hall of Fame, but you can build your good memories like Pete on The Pines at Michaywe.'  Learn more at michaywepines.com and check out gaylordgolfmecca.com.