THE GAYLORD GOLF MECCA: Built to Lead and Last as Golf Destination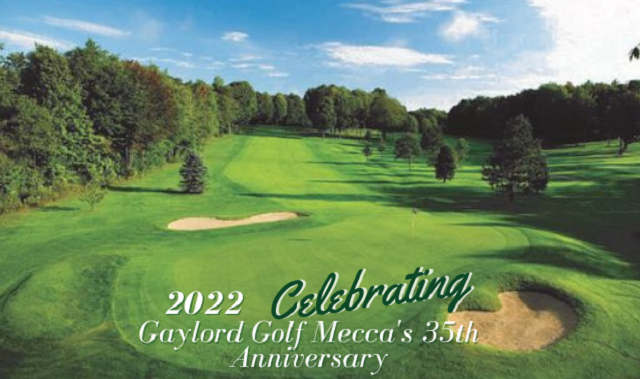 By Greg Johnson
The Gaylord Golf Mecca is the straw that stirs the drink, that unquestioned Elk leading the herd, the player atop the leaderboard, any way you wish to put it – a leader in U.S. destination golf, and the numbers prove it.
Golf rounds played in the United States in 2021 were up 5.6 percent with the region of the country that includes the Gaylord Golf Mecca up 5.7 percent, according to National Golf Foundation figures. The Mecca – as a collection of 17 golf course members with 21 lodging partners in the heart of Northern Michigan – was up 10.5 percent. Yes, 10.5 percent and built to take on more.
Paul Beachnau, the executive director of the Mecca, points to three things – a pandemic silver lining, a golf product with broad appeal and a perfect destination for groups and families.
"Golf has been one of the silver linings of the pandemic," he said. "People have gotten outdoors and are finding there are psychological benefits to being out and being active in golf, notwithstanding a few bad shots.
"Also, our golf product appeals to all levels of players, and we have witnessed a reigniting of passion for the game. If you are that new player or player coming back we have courses and service to fit you, and if you are that serious player or just part of a big group that wants a great golf trip, we have offerings for that, too.
"And we have this beautiful destination, a great downtown with a lot of options for dining, lakes, and hiking trails, all within a few minutes," he continued. "In a lot of places with resort golf you are stuck in one place, but in Gaylord everything is close enough that you can create variety. We are a golf-driven community. You can play at a price you prefer, then grab a beer and a meal on site or just a few minutes away downtown and also stay in the lodging you find most comfortable."
JT Aude, the newly elected Mecca chairperson, and head professional at Gaylord Golf Club who has worked in golf in the area for almost 40 years, said he could tell working the shop all summer that golf round numbers were going up.
"Even in the first summer with Covid (2020) our numbers were good, and this year we were very busy the entire time," he said. "You could tell from the conversations with the golfers and the phone numbers we would get on the computer when they booked. Texas, Pennsylvania, the golfers came from so many places and they would tell you they heard about how many different courses we had in the Mecca and how great of shape they were in."
Aude said the addition in recent years of more air travel to Northern Michigan via Cherry Capital Airport in Traverse City has made a significant difference.
"Especially the direct flights from the hot climates sending us golfers who want to play in great weather in the summer," he said. "We have long days of great weather here and the word has spread."
The 2022 golf season will be the 35th for the Mecca cooperative marketing group. It started in 1987 with six courses in conjunction with the development of a new convention and tourism bureau.
"We thought at the time we had a good collection of courses and we wanted to put Gaylord on the map as a golf destination," Beachnau said. "What we have now was beyond my imagination. I remember in 1992 four new golf courses opened in one year. People had decided let's build there, land costs are fairly affordable, the terrain variety and the natural sand soils are perfect for golf and that helped attract some of the best golf course designers in the game. We kept working together, and here we are."
Aude said in 1987 he thought of Gaylord as a nice little town with some hidden-gem golf.
"To think a town of 3,500 people would one day have this many golf courses, and an incredible variety including some by the greatest designers in the world, I didn't see that," he said. "That's what we have now though. It's actually really amazing what we have in Northern Michigan."
Cooperation has been the driving force according to Beachnau and Aude.
"That's the name of the game for us," Beachnau said. "Our properties all work hard to get their fair share of the market, but they also work together, with a common bond and a spirit of cooperation to drive growth in our market. Cooperation inspires everyone to be better and do better. It's friendly competition. That helps raise the bar in terms of quality."
Aude said it is not unusual for him to get on the phone with a partner golf course and make things happen for visiting golfers.
"We all try to work together and at the end of the day the more golfers we get to town the better it is for everybody," he said. "We find spots, and if we are not full we offer spots, we just help everybody out including our hotel partners who help us by booking great packages. I think we are unique in the golf and business world. The key is never talking down another property. We work together. It's extraordinary what we have accomplished over the years."
Visit gaylordgolfmecca.com for course listings, specials, stay & play packages and more.