Spring to Action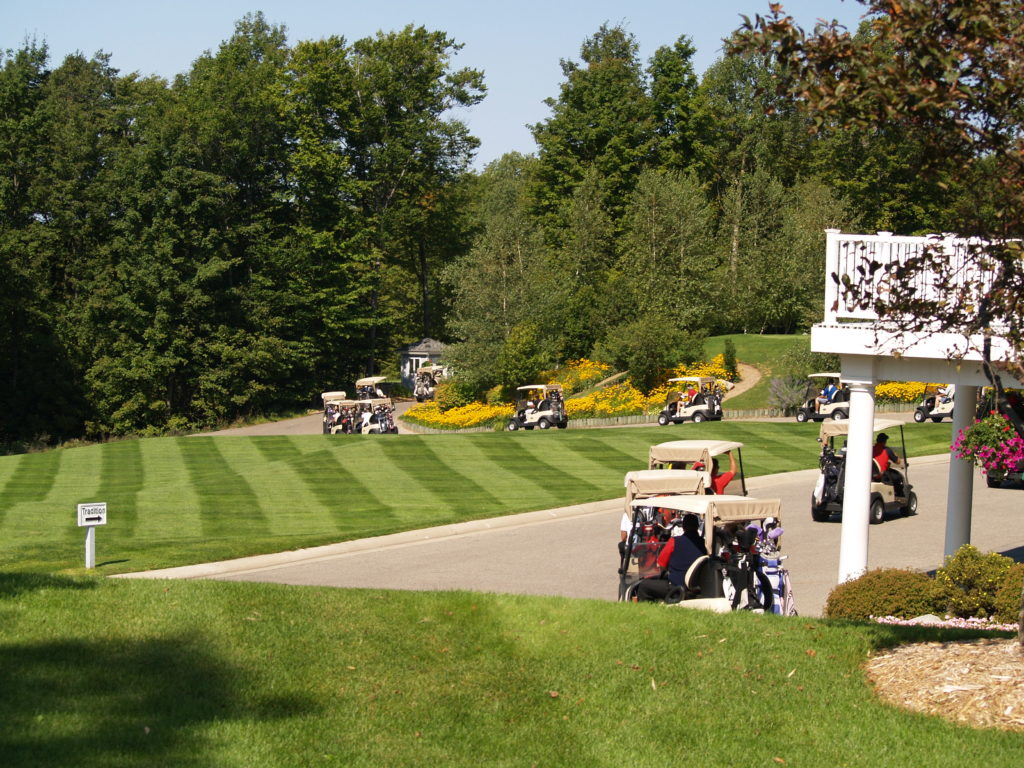 Gather the group, buddies, gal pals, gang, whatever the description and get that golf trip planned.
We have the perfect destination for you. It's the Gaylord Golf Mecca, featuring 17 world class golf courses, 21 great lodging partners and golf trip packages at every price point, and fun is guaranteed.
The Mecca courses are opening as the spring flowers emerge, and they are in perfect shape. Groups of golfers are already staking claim and arriving, so don't dawdle any longer.
We have more than enough golf for everybody, and room, too.
We are America's Summer Golf Mecca, a 34-year-old cooperative marketing effort for an incredible collection of golf. Make it your group's tradition to visit any one or all of the world-class courses created by many of the game's greatest golf course design architects. Tom Fazio, Robert Trent Jones Sr., Rees Jones, Rick Smith, Jerry Matthews, and the legendary Wilfrid E. Reid among others have carved their inspirational artistry through our Northern Michigan woods.
With the many distinct dining and lodging opportunities that pair with the wonderfully diverse and delightful golf experiences, golf publications and bloggers consistently rank Gaylord resorts among the top stay-and-play destinations in the country.
A round of golf in the Mecca is a truly memorable touch of the beating heart of Northern Michigan golf. The longest of summer days, uncluttered greens and pristine natural beauty carved by the glaciers long ago form a foursome of sorts with each golfer.
Skill levels of the player are easily accommodated as well. The Mecca collection was designed to challenge champions as well as appeal to those who just want to play for the day in a beautiful place.
Want a cozy campfire at night, as in a true Northern Michigan lifestyle? Check out The Natural at Beaver Creek Resort.
Want relaxing, up north fun golf for groups of all abilities and ages? Check out Lakes of the North Golf Course.
How about holes that isolate you from all other people on the golf course? Check out Black Lake Golf Club.
Want traditional, timeless golf where you can walk or ride? Check out Indian River Golf Club.
Does your group want the challenge of courses by name-drop designers like Jones and Fazio? Check out Treetops Resort.
Want to play some of the best greens in all of Michigan? Check out Gaylord Golf Club.
Are you picturing an all-inclusive getaway in the woods with multiple golf courses? Check out Garland Lodge & Golf Resort.
Want to play where champions are defined? Check out the classic Michaywe' – The Pines, host of two Michigan Amateur Championships (1991, 1996), including one won by Michigan golf legend Pete Green.
Want miles-wide picturesque views of the beautiful land carved by glaciers of long ago? Just look around as you play The Tribute at Otsego Resort.
Those are just a smattering of the things the Mecca offers to groups, couples, anybody.
Gather the group. Gaylord has golf, great restaurants and more. It's one-stop shopping and the Mecca will help you plan the trip – EXACTLY the way you want it – by visiting gaylordgolfmecca.com or calling 800-345-8621.
By Greg Johnson