SEVEN UP: Lakes of the North Golf Pro Welcomes Mecca Golfers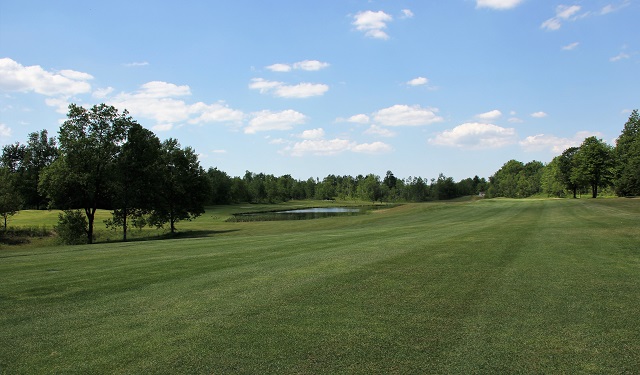 Lakes of the North Golf Course came back into the Gaylord Golf Mecca marketing cooperative this year and added more than just another place to play.
Rob Diroff, who is in his second year as the head golf professional and a former assistant pro at Gaylord Golf Club, recently offered up several reasons Lakes of the North is a valued addition to the Mecca.
A Michigan native and Ferris State University Professional Golf Management graduate, Rob has a well-rounded perspective as a person who has worked in golf all of his adult life. He noted he has worked as a cart attendant, maintenance worker, irrigation technician, clubhouse cook, assistant golf professional and head professional.
Rob knows what he is talking about regarding the entire operation at Lakes of the North, and here's his seven-up-things breakdown:
1. The course is way more challenging than people think when they are coming out here. It's the first thing you hear when people come in: "Oh my gosh, it's way more challenging than I thought." I love that about this course.
2. It is championship length if you really want to challenge yourself. We can get it over a 7,000-yard look. It is one of the few that gets over 7,000 yards in this area. But we also have a playable course with a number of tee positions for every type of golfer. You pick the right tee and you get what you can handle comfortably.
3. The front nine (designed by Jerry Matthews) was built 20 years after the back nine (designed by Bill Newcomb in the 1960s) and gives the golfer a totally different look. The front nine is kind of cut through the woods with tight fairways and water, and then we get to the back nine that is a little bit flatter and more open. We get nine-hole golfers and family golfers who ask to play the back nine. It's a little easier to manage.
4. We have some beautiful holes out there, like 7, 8 and 9. Great views and wildlife. It's really a pretty area of the golf course. And I really like the finish, 15, 16, 17 and 18. They are good holes with great trees.
5. This golf course is affordable. It fits everyone's budget. We have so many deals all the time like unlimited golf specials, weekday and weekend specials, senior rates, military and veteran rates and discounts. We try to accommodate everybody's budgets. You can play here for $40 a lot of the time and you get great value.
6. We have full restaurant service and our chef (Mark Kuzma) is new with us and he is fantastic. He moved to Northern Michigan from downstate and he has done a fantastic job with the food and service. We have some new faces; some old faces and Mark really has this place going.
7. The maintenance staff headed by Scott Brown and Mark Louis is great, and this is such a well-maintained golf course. You don't see disease on the greens. The staff has been together for years and years and know every inch of this golf course. They spend a lot of hours here to make the course look great.
For more information visit lakesofthenorthgc.com or call 231-585-6800. The course is located at 8151 Pineview Dr., Mancelona. Book a Mecca golf package that includes a visit to Lakes of the North at gaylordgolfmecca.com or call 800-345-8621.
By Greg Johnson