MAKE IT A MECCA SUMMER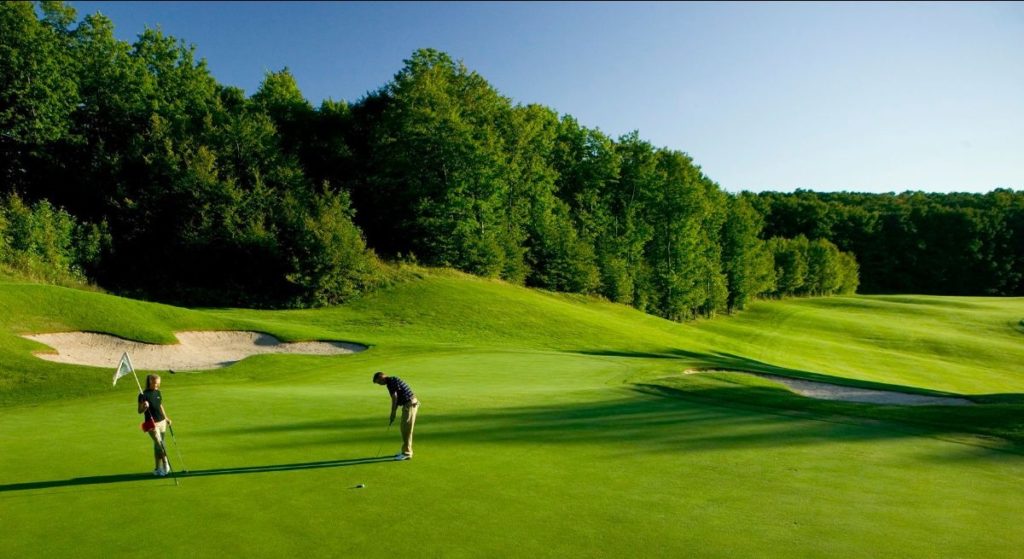 1. TREE-MENDOUS GOLF
For 34 years the top golf courses in the Gaylord area have been marketed together as the Gaylord Golf Mecca and gained a great reputation. It's because the area truly offers the best combination of quantity and quality of golf in the Midwest, right in the heart of Michigan's beautiful land of lakes and trees. There are multiple courses in multiple places to fit any group. Treetops Resort, Otsego Resort, The Natural at Beaver Creek Resort, Garland Lodge & Golf Resort, Lakes of the North, The Pines at Michaywe', Black Lake Golf Club, Indian River Golf Club and Gaylord Golf Club provide 17 courses total. Come see how many you can play. Robert Trent Jones, Tom Fazio, Rick Smith, Jerry Matthews and even the legendary Wilfrid E. Reid designed holes in the Mecca. The Gaylord Golf Mecca is a true tour of golf greatness.
2. LOADS OF LODGING OPTIONS
The Gaylord Golf Mecca has 21 lodging partners, who together count approximately 1,400 rooms. That means you can have anything you want or desire, from luxurious to rustic, from traditional to modern, from campfire to a fireplace that starts with the flip of a switch. Start with the resorts, where at Treetops Resort you will find recently remodeled rooms and Otsego Resort that offers wonderfully appointed multiple lodging options. Prefer hotels? Fairfield Inn & Suites, Hampton Inn and the new Comfort Inn among others are partners. Prefer something completely different? Just tell the folks at Pine-Cone Vacations and they will make it happen.
3. GREAT PLACES TO EAT
In the handy Northern Michigan Golfer magazine you can pick up at the Gaylord Area Convention & Tourism Bureau, 319 West Main, there are about 40 restaurants listed in the dining section. The Gaylord area's assortment of culinary options is impressive with a wide diversity of choices to satisfy all palates. The list includes many options at the golf resorts and courses, and the extra-large selection of downtown dining destinations. A quick five among my favorites in alphabetical order follows, though I must confess I have not hit all on the big list yet: Alpine Tavern and Eatery is essentially a casual American fare sports bar, which fits a casual American like me. Big Buck Brewery, under new ownership, has returned as a perfect spot for a golf crowd or even a couple. Michaywe' Inn The Woods, which is, well, back in the woods and perfect for a relaxing dinner. Snowbelt Brewing Company is downtown, offers multiple handcrafted beers and flagship beers, and some good eats, too. They had me at multiple handcrafted beers. Treetops Resort's Sports Bar has brick-oven pizza, Kobe burgers, great appetizers and many other options. The view from the top of the ski hill is awesome, too, and great after-golf spot.
4. LAKES FOR SPLASHES OF FUN
Michigan is the Great Lakes State, and Gaylord holds up its end of the bargain with Big Bear Lake, Big Bradford Lake, Big Lake, Dixon Lake, Thumb Lake, Otsego Lake and of course short trips to Burt Lake, Black Lake, Lake Michigan, Lake Charlevoix and more. Swim, water ski, do all types of fishing, relax on a pontoon, canoe, kayak or jet about on watercraft of all sorts. These are just some of the water sporting adventures available. Otsego Lake County Park and Otsego Lake State Park are sweet places to check out, too.
5. EXTRA-LONG DAYS FOR MORE GOLF!
Play golf until almost 10 p.m. We are not kidding. Gaylord is located in the heart of Northern Michigan and in the Eastern Time zone where Daylight Savings makes you wait just a little longer for a beautiful sunset over the many lakes and golf courses in the region. Those sunsets are worth it, especially after a great round of golf. We suggest sitting on one of the decks that overlook the world-class collection of No. 18 holes at the member courses of the Mecca. Oh, and there is hiking on trails in the Pigeon River Country State Forest and even one called Deadman's Hill. Yikes! Come visit. Learn more AND PLAN YOUR TRIP at gaylordgolfmecca.com
By Greg Johnson