PGA vs. Red Wings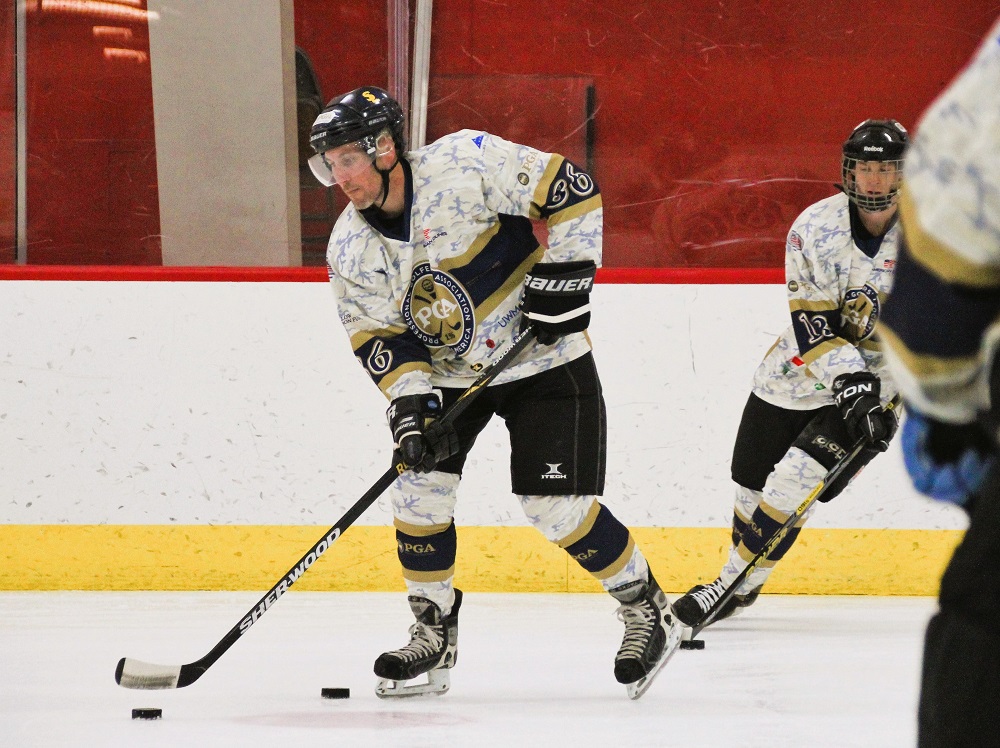 By Greg Johnson
Lakes of the North Golf Course PGA head professional Rob Diroff is among the many golfers who play hockey, too. When ice forms, he gets out the hockey equipment. When the grass appears once again in the Gaylord Golf Mecca, it's back to golf.
Just last month Diroff was one of 27 Michigan Section PGA golf professionals who took on the Detroit Red Wings Alumni hockey team at the Belfor Training Center at Little Caesars Arena in downtown Detroit. The Michigan PGA and Red Wing Alumni partnership presented $15,000 to PGA HOPE (Helping our Patriots Everywhere), $15,000 to the Yellow Ribbon Fund and $30,000 to Folds of Honor.
Oh, and the PGA team held its own for a while, and even scored the first goal of the game before falling to the Red Wings Alums 10-5. The PGA players each raised funds for the veterans' groups.
"When I first saw the email about the game, I thought it was so cool and I jumped all over it," Diroff said. "I saw it as a once-in-a-lifetime thing. My dad had shared a story about playing in a game against Red Wing alumni a long time ago, so I just had to do it. Seeing all the players I cheered for while I was growing up was fantastic, unbelievable. It was really cool. I still can't believe all the great players that were there."
Diroff, who has been the head professional at Lakes of the North for five years, is a Michigan native and Ferris State University Professional Golf Management graduate. Golf came after hockey, a game he started playing at age four, played in high school at South Lyon in metro Detroit and continues to play twice a week each winter in a men's league.
"I didn't find golf until high school really, and then my brother (Vinnie) became a teaching pro and it took me a few years, but I sort of followed in his footsteps and got hooked on golf that way."
Diroff, who has worked in golf as a cart attendant, maintenance worker, irrigation technician, clubhouse cook, assistant golf professional and now head professional, said if PGA plays the Red Wings again, he is all in.
As for golf and the coming golf season at Lakes of the North, he said a promising forecast has him thinking the course will be open before May 1.
"I love hockey, and when golf rolls around I love golf," he said. "We're looking to have a great year at Lakes of the North. We keep getting better every year."
For more information visit lakesofthenorthgc.com or call 231-585-6800. The course is located at 8151 Pineview Dr., Mancelona, and you can find Rob in the shop.
Book a Mecca golf package that includes a visit to Lakes of the North at gaylordgolfmecca.com.