Lakes of the North Features Fun on the 45th Parallel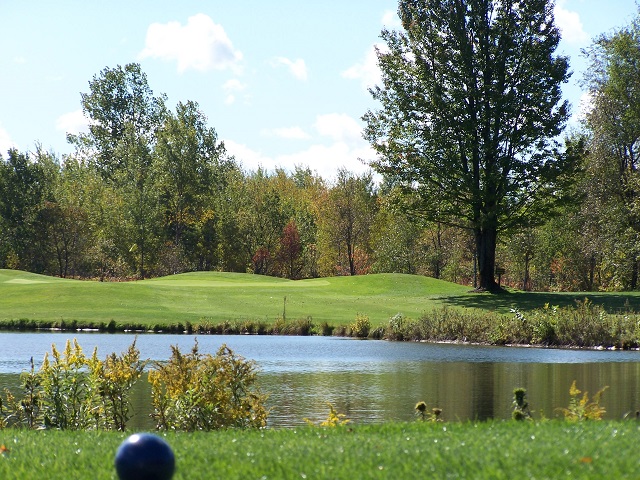 Lakes of the North Golf Course head golf professional, Rob Diroff, is planning to add some extra fun to your schedule this summer in the Gaylord Golf Mecca.
The 45th Parallel Open, a 36-hole flighted stroke play tournament with cash prizes, is scheduled for July 17-18 and entries are being accepted in the golf shop (call 231-585-6800).
"It's new and for fun with cash prizes and we will have some other contests and stuff with it," Diroff said. "It's open to amateurs, pros, everybody and anybody who wants to play two days of stroke play and try to win their flight. We will have more flights depending on how many people enter, but flights will be set up for seniors and women, not just a championship flight. We have lined up several sponsors already, and we think it's going to be a great time."
The 45th Parallel Open is obviously a fitting name as Lakes of the North and the Gaylord Golf Mecca are located at the halfway point between the equator and the North Pole in the heart of Michigan. And fun is the order of the day each day of the golf season at Lakes of the North, which opened early this year in mid-April.
"We thought we would try it and it made some members and other early-bird golfers happy," he said. "Plus the golf course is in great shape. This is my third year as head golf professional and the course just keeps getting better every year. I played the other day and the greens were rolling smooth and consistent."
The experienced maintenance staff led by Mark Lewis and Scott Brown has helped Lakes of the North gain a new reputation in the Mecca.
"This course wasn't always known for its condition, but a new irrigation system five years ago and the work by our staff has this place looking green and great," Diroff said. "The condition was great last year all season and we had a good year all the way through. We're expecting to build on that this year."
Lakes of the North offers 7,000 yards of golf for those who want a stern challenge, but also a number of other tee positions to welcome golfers of all ages and skill levels.
The front nine (designed by Jerry Matthews) was built 20 years after the back nine (designed by Bill Newcomb in the 1960s) and gives the golfer different looks. The front nine is cut through the woods with tree-lined fairways and some water to negotiate, and the back nine is a little flatter with more open parkland style holes.
Lakes of the North is also among the most affordable golf courses in the state with unlimited golf specials, weekday and weekend specials, senior rates, military and veteran rates and discounts.
"We try to accommodate everybody's budgets," Diroff said. "You can play here for around $40 a lot of the time and you get great value."
For more information and rates, visit lakesofthenorthgc.com or call 231-585-6800. The course is located at 8151 Pineview Dr. in Mancelona.
It's part of the 17 golf courses in the Gaylord Golf Mecca marketing group, which also has 21 lodging partners in the area, and can easily be fit in to a Mecca travel package. Visit gaylordgolfmecca.com or call 800-345-8621.
We're easy to find on the 45th Parallel, and we're open.