Golf Advisor Reviewers Pick Black Lake Among Nation's Top Golf Courses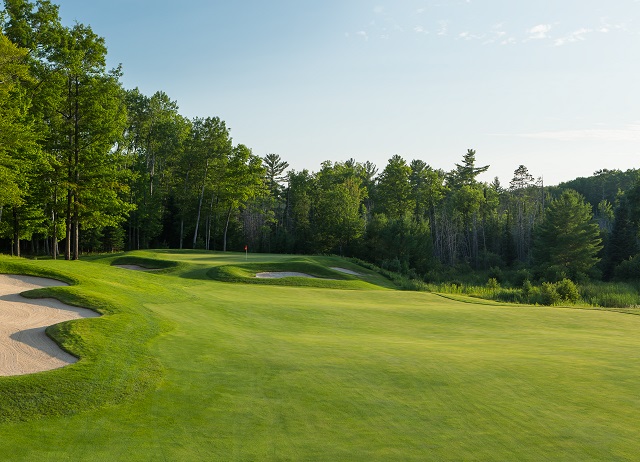 By: Greg Johnson
The Gaylord Golf Mecca is America's favorite summer golf destination and Black Lake Golf Club in Onaway is clearly a favorite among favorites.
The Golf Advisor's most recent course rankings based on 315,000 submitted reviews placed Black Lake at No. 26 among the top 50 most popular courses nationally for 2022.
We are not surprised.
One of the reviewers aptly noted: "Course is in great condition, friendly staff all the way around. Would highly recommend playing here if you are in the area."
Black Lake, also rated among the top 10 in Michigan by the reviewers, is one of 17 member golf courses of the Gaylord Golf Mecca. Treetops Resort in Gaylord, a Mecca flagship member with five courses, also landed two courses among the top 25 in Michigan in the Golf Advisor.
Located just 18 miles off northbound I-75, Black Lake features the award-winning 18 holes Architect Rees Jones designed for the UAW Black Lake Conference Center in 2000.
It's a classic design with imaginative bunkering, top-notch conditioning and a get-away-from-it-all feel on each isolated hole just an hour drive from Gaylord and an hour drive from the Mackinac Bridge.
The course has also made multiple appearances on best-of lists across the board. It was designed to provide a challenge for golfers of all skill levels. Five sets of tee markers are part of most holes. The course plays from 5,058 to 7,030 yards.
"The holes were here, we just had to find them," Jones said just after the course opened in 2000. "We strive for holes blending with the natural terrain."
Learn more and make sure to book a golf trip to the Mecca and Black Lake at gaylordgolfmecca.com or blacklakegolf.com.
Below are links to the golf rankings for Golf Advisor which is based on 315,000 submitted reviews.
https://www.golfpass.com/travel-advisor/best-of/golfers-choice-2023-top-50-u-s-golf-courses-26-50
https://www.golfpass.com/travel-advisor/best-of/golfers-choice-2023-michigan