Getting to the Gaylord Golf Mecca – Easy Peasy!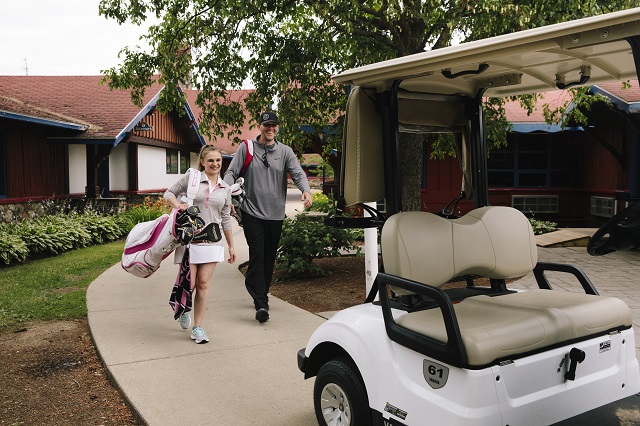 By Greg Johnson
Getting HERE has never been easier.
We are talking about the Gaylord Golf Mecca in the heart of Michigan's lower peninsula, America's favorite summer golf destination.
The home to 17 golf courses at nine great properties – and we have 21 lodging partners, too – has long been an easy minimal-turns Midwest drive and nobody in our part of beautiful Northern Michigan charges for parking.
From Detroit, I-75 to exit 282 about 250 miles. From Lansing, U.S.127 to I-75 about 210 miles. From Grand Rapids, U.S. 131 to M-32 east, about 180 miles. From Chicago and Indiana, I-94 to U.S. 131, M-32, about 350 miles. From Cleveland and other parts of Ohio, I-75, about 380 miles. It's as easy as that!
And flying, well it just keeps getting better with the partnership the Mecca has forged with the ever-expanding Cherry Capital Airport in nearby Traverse City.
Delta Airlines recently announced it is expanding its seasonal summer schedule of flights in and out of Cherry Capital to Boston and New York in May and is adding to its flights to big hub airports in Detroit and Minneapolis in May.
All that is a Cherry Capital cherry on top of the non-stop American Airlines air service already in place between Dallas/Fort Worth and Traverse City. Those flights have been bringing Southwest region golfers to better summer weather since 2016.
The point is, getting here and getting great quantity and quality of golf in a beautiful resort area destination is easy.
Booking a vacation, a trip for golf friends, a weekend, a golf marathon or even just a few rounds of fun is as easy as this: Check us out at gaylordgolfmecca.com or call 800-345-8621 and we will help you plan. Check flights at tvcairport.com. Or, put Gaylord, Michigan, in your GPS and hit the great American road.
You can reach out directly to our member properties: Lakes of the North, Treetops Resort, Otsego Resort, The Natural, The Pines at Michaywe, Indian River Golf Club, Garland Lodge & Golf Resort, Gaylord Golf Club and Black Lake Golf Club.
The golf is unmatched with traditional classic parkland golf, expansive modern resort golf, pure Northern Michigan terrain golf, award-winning architecture by the greats of the game like Robert Trent Jones and Tom Fazio, comfortable lodging options across the spectrum of price point, comfort, and luxury.
Come see us. Come experience the Gaylord Golf Mecca. It's easy peasy.