Getting Away
Lakes of the North Making It Happen In The Mecca
By Greg Johnson
Rob Diroff, now in his fourth year as the head PGA golf professional at Lakes of the North Golf Course, has a goal for 2022. "I want as many people as possible to play golf here and experience the great course, the good conditions we have, the whole community here and the get-away-from-it-all feeling you get here," he said.
Lakes of the North, at Diroff's urging, rejoined the Gaylord Golf Mecca cooperative marketing group three years ago. The course was a founding Mecca member 35 years ago but had dropped membership. "I don't know what all happened in the past, but I knew we had to get back in," said Diroff, who had worked as an assistant professional at Gaylord Golf Club among his previous golf stops.
"And being part of the Mecca has been great for us the last three years. It's been fantastic actually. What they do for us in marketing and advertising goes way beyond what we pay in dues. We saw results instantly when we joined in 2020. There was an almost instant uptick in rounds played, and we continue to get visitors from other places, other states coming to play golf here because of the tie to the Mecca."
Diroff has worked to make Lakes of the North welcoming to visitors. He teaches lessons, keeps demo sets and rental sets in the pro shop, sells clubs at competitive prices, and helps the rest of the 17 member courses and 21 lodging partners in the Mecca with golf package requests.
"We feel like we are part of the fantastic golf in Northern Michigan," he said. "It's the best. The rest of the country envies Michigan golf and Northern Michigan golf. The Mecca is a big part of that."
Lakes of the North, which also has a full-service restaurant, will present Diroff's junior clinic for summer visitors and local families over three Wednesdays in July. The league play has returned, including the fun Happy Gilmore couples league that plays nine holes every other week. Concerts for the community pop up on the driving range, too. A local musician, Lori Cleland, will perform on June 25.
"It's all part of this being a great place, a relaxing place," Diroff said.
The key element of course is the golf course, which includes more challenge than some expect if they choose to play it over the maximum yardage of 7,000 yards. Multiple tee positions make it a fit for all levels of golfers though.
The front nine (designed by Jerry Matthews) was built 20 years after the back nine (designed by Bill Newcomb in the 1960s), which presents golfers with two different looks and styles of design. The front nine is cut through the woods with tighter fairways and water, and the back nine is a bit flatter and more open to wayward shots. Wildlife is abundant, isolation is at hand on several holes and the finishing holes on each nine are the stronger holes of the course.
Diroff points out it is great Northern Michigan golf at affordable prices. Rates fall between $42 and $58 depending on the day and what specials might be in play, including twilight rates. "You get a lot for the price at Lakes of the North," he said. "People are surprised when they are done. They realize they had a great golf course experience at a great price."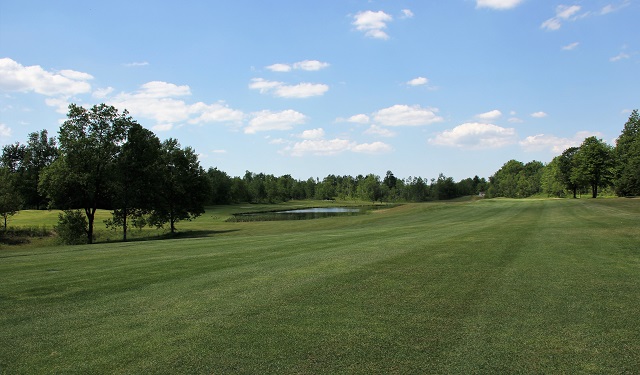 The condition of the course has been spiraling upward in recent years since a new irrigation system was installed. Darren Hoogerhyde now runs the grounds crew. He has been part of the staff for nine years and previously worked under Scott Brown and Mark Lewis. "Darren is doing a great job," Diroff said. "Our greens are great, really consistent and the guys take a lot of pride in their work."
For more information visit lakesofthenorthgc.com or call 231-585-6800. Book a Mecca golf package that includes a visit to Lakes of the North at gaylordgolfmecca.com.