Garland Lodge & Golf Resort Celebrates 70 Years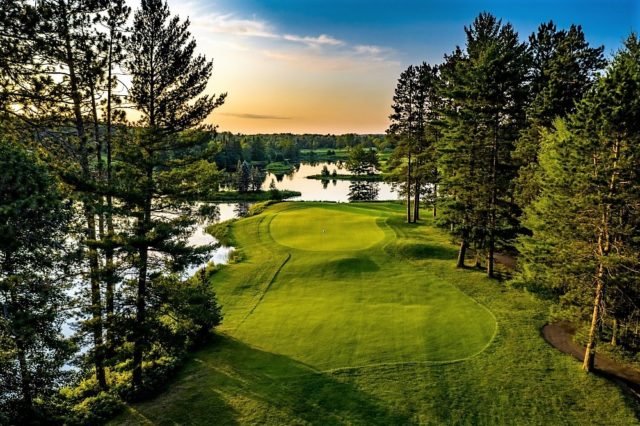 By Greg Johnson
The Gaylord Golf Mecca has a history as a cooperative marketing golf group of 34 years, and it includes some members that have been in the game a lot longer.
This summer Garland Lodge & Golf Resort celebrates 70 years of welcoming golfers to its expansive, beautiful, and yet unassuming vacation playground in the heart of the Mecca and the state of Michigan.
"Golf has been very good to Garland for 70 years," Dave Sanderson, president and chief operating officer starting his seventh golf season, said.
"Unassuming is a good word to describe Garland. One of the things mentioned the most by our guests is how different the four golf courses are, and another thing is the food and beverage quality. We're not especially fancy, but we are very good."
Sanderson feels the true appeal of Garland comes in layers.
"I think the peacefulness, the nature, the bald eagles that nest here, the landscaping, all those things combined with how friendly the staff is makes a difference," he said. "One thing I hear a lot is that Garland has more of a club feel to it than a lot of resorts. I think we make our guests feel like they belong to the club. We blend that resort and club feel."
Garland has 400 beds in their multiple highly regarded accommodation choices, and four unique golf courses that offer a variety of experiences centered at one convenient clubhouse. Big and small "clubs" are welcome for there is plenty of room to move about and garner a true resort experience, and of course, four golf courses.
Fountains, Monarch, Reflections and Swampfire, each aptly named and immaculately conditioned await. Four experiences, each unique in many ways, allow a golfer to choose or simply try a different one each round.
The late Ron Otto designed the four courses, but the Fountains course was redesigned in 2010 by Illinois architect Michael Benkusky, who is highly regarded for his work at Canyata Golf Club in Marshall, Illinois.
Fountains plays between 4,600 yards and almost 6,800 and offers significant challenge with its undulating greens.
Monarch, meanwhile, is the most traditional championship course of the foursome. It plays between 4,900 yards and almost 7,300 and has been favored over the years by the likes of the Michigan Section PGA when it presented its Michigan PGA Professional Championship at the resort from 1992 to 1994.
Reflections is the shortest of the four courses playing between 4,700 and 6,400 yards, but it demands accuracy among the trees and the navigation of some elevation changes. Bunkers protect most of the greens, and it might be the picture-perfect prettiest course.
Swampfire has water visible on 15 of 18 holes and Sanderson said the course will get in your head. "Most of the water is not in play; it is in your head," he said. "I think it's a great layout with all kinds of different holes and some of our best holes, too."
Some resources have recently been invested on each of the courses and Sanderson said the payoff will come this year with even faster greens and firmer fairways. New technology has been implemented in the lodging door locks, and Sanderson says the biggest investment this year will be in pay adjustments for the team members.
"We have a great team and we want to keep them around," he says. "Our guests tell us they like the way they are treated. We want to reward our team for that, and we want to continue hearing that feedback."
Garland is part of the Mecca collection of 17 destination golf courses in the Gaylord area. Visit garlandusa.com for more information or call 877-442-7526 and learn more at gaylordgolfmecca.com.