FOUR Reasons to Visit the Mecca's Garland Lodge & Golf Resort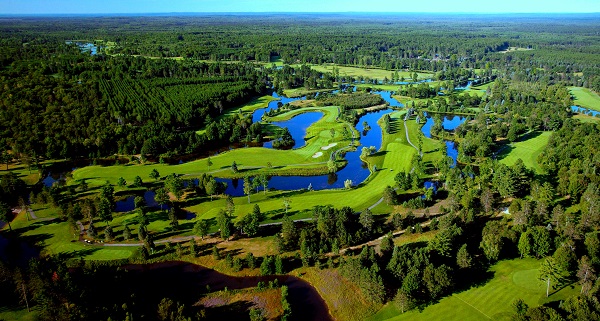 The FOUR biggest reasons to make Garland Lodge & Golf Resort part of your Gaylord Golf Mecca experience are – wait for it – the FOUR golf courses at the pure Northern Michigan resort.
Fountains, Monarch, Reflections and Swampfire, each aptly named and immaculately conditioned, await the visiting golfers. Four experiences, each unique in many ways, allow a golfer to choose or simply try a different one each round.
---

Fountains was ranked the No. 12 course in Michigan by Golf Advisor in 2017. It plays between 4,617 yards and 6,760 yards with multiple tee positions, and the real challenge is in the undulating greens. Be careful with those approach shots.
---

Monarch is the big boy, playing between 4,904 yards and 7,166. It has generous fairways and large green complexes but is cut through a lot of forest area. The mix of left and right doglegs make the golfer think a little bit before bombing away.
---

Reflections is the shortest of the four courses, playing between 4,713 and 6,373 yards, but it demands accuracy among the trees. Bunkers protect most of the greens, and it might be the picture-perfect prettiest course.
---

Swampfire has water visible on 15 of 18 holes, and often in play with a poor swing or club choice. Think before swinging, but you can have at it from the tee because the fairways are generous. The Par 3 No. 5 hole horseshoes around a pond and the hole can change yardage and fun-to-try angles each time out.
---
Dave Sanderson, president and chief operating officer at Garland Resort, is often asked which of the four golfer courses – Fountains, Monarch, Reflections and Swampfire – is his favorite.
"I have a hard time answering that because each of them has things I like about them," he said.
"Fountains is bent grass tee to green with undulating greens. You look at the scorecard and think it is getable, but when you are done playing you realize it was harder than you thought," he stated.
"The Monarch is the longest and the traditional championship layout," he shared. "It is a great course and very popular. The Monarch and the Fountains are where our member tournaments are held."
"Reflections doesn't get the credit it deserves through. I think holes 6 through 12 are as fine as anything we have at Garland. It has narrow fairways and smaller greens, but it's a good golf course."
"Swampfire is named appropriately with water on 15 of the 18 holes, but I always tell people it is visually intimidating and the design gets in your head," he said. "If you dive deeper into it, it is really not that hard. The fairways are generous. It does have a couple of par 5s that really make you think strategically from the tees, but that's the fun experience part of it."
---
Garland is located in Lewiston in the heart of the Mecca. Visit garlandusa.com for more information or call 877-442-7526. Make Garland a part of your Mecca visit by checking out gaylordgolfmecca.com or calling 800-345-8621.
By Greg Johnson