FORE: Play Four Wonderful Courses at Garland Lodge & Golf Resort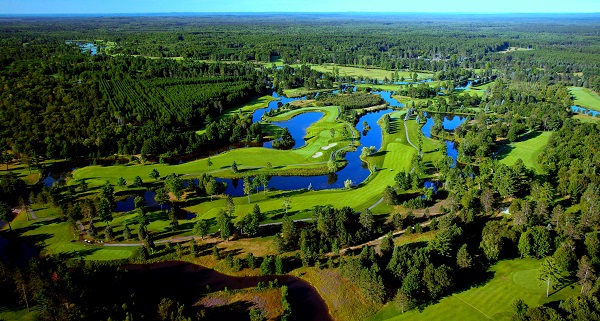 By Greg Johnson
Fountains, Monarch, Reflections and Swampfire are the courses at Garland Lodge & Golf Resort and each are aptly named and immaculately conditioned.
It's four experiences, each unique in many ways. Choose or simply try a different one each round when you visit the Gaylord Golf Mecca, which with the four at Garland numbers 17 courses at nine different properties in the beautiful Gaylord area in the heart of Northern Michigan.
The late Ron Otto designed the Garland four, though the Fountains course was redesigned in 2010 by Illinois architect Michael Benkusky.
Fountains plays between 4,600 and almost 6,800 yards and offers significant challenge with its undulating greens. The course has six par threes, six par fours and six par fives. The par five holes offer a bevy of risk-reward shots. The golfer has to decide just what they want to try and make happen while keeping in mind angles to the greens. It's fun.
Monarch is the most traditional championship course of the foursome. It plays between 4,900 and almost 7,300 yards and has been favored over the years by the likes of the Michigan Section PGA when it presented its Michigan PGA Professional Championship at the resort from 1992 to 1994. It has some of the best par three holes in the Mecca. Be ready to play on this one.
Reflections is the shortest of the four courses playing between 4,700 and 6,400 yards, but it demands accuracy among the trees and the navigation of some elevation changes. Bunkers protect most of the greens, and it might be the picture-perfect prettiest course. Look around you. It's stunning. Just keep your golf ball in the middle of the fairway if possible.
Swampfire has water visible on 15 of 18 holes, but most of it is not in play. It just plays with you because it is visually intimidating. The variety of holes is what stands out, and there is more room than you think to hit the golf ball. All 14 clubs will get used though and pulling up to each tee offers a new adventure. Be adventurous!
The Garland four can be part of a Gaylord Golf Mecca package, and they all play out of the convenient single clubhouse.
Visit gaylordgolfmecca.com, visit the Mecca and make a stop at the Garland four. Fore!