Five Outstanding Reasons to Visit Otsego Resort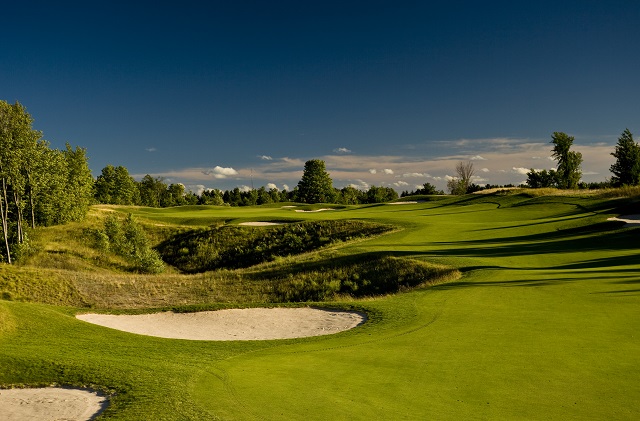 By Greg Johnson
1. The Tribute
The Tribute is one of the top golf courses in the Gaylord Golf Mecca. It takes golfers up and down on a modern course cut from 1,100 picturesque acres of the Sturgeon River Valley. The views are amazing, including some of 30 miles or more. That's not the best part though. The golf design by PGA Tour player Gary Koch and Rick Robbins is challenging and exciting with large undulating greens and a yardage range from 5,085 yards to 7,347 yards.
2. The Classic
The Classic, the second of the two courses at the resort, is a classic designed by William H. Diddel of Indiana, a charter member of the American Society of Golf Course Architects who designed over 75 golf courses in his career. It provides few gimmicks and is friendly for family golf, seniors, and juniors as it measures a maximum of 6,348 yards. It also offers great views. Check out the 20-mile view from behind No. 9 green.
3. Lodging
The resort has 80 guestrooms on site in lodges with an Alpine log-cabin welcome feel. Note, the resort started the area's Alpine theme. The rooms are offered at comfortable price points and are comfortably appointed as well. Groups will love the Hilltop Lodge and its wonderful and aptly named Great Room. It's great for gatherings and celebrations around a large fireplace.
4. Golf Packages
Golf packages that start with lodging at the resort can include the other courses in the Gaylord Golf Mecca, a cooperative marketing group that features 15 more courses at eight other properties in the area. It's perfect for the stay-and-play groups. Play The Tribute and The Classic and throw in more if you wish at other area courses.
5. Duck Blind Grille
The Duck Blind Grille, located in the main lodge, has a 27-mile view of the Sturgeon River Valley and so much more. It's a perfect dinner and after-golf gathering place with great food and a friendly bar area. A wonderful wide array of menu choices await.
Learn more, book golf and lodging and check out the Duck Blind Grille menu at otsegoresort.com