Five Courses and Jones Cottages at Treetops Resort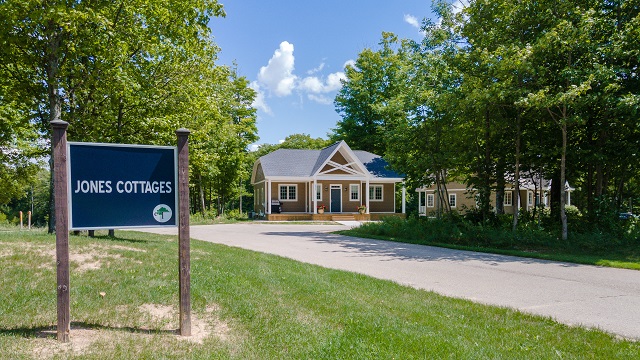 By Greg Johnson
Treetops Resort, another grand part of the Gaylord Golf Mecca, features masterful golf on five courses, including the original Masterpiece designed by Robert Trent Jones Jr., so it has long made sense to offer golfers masterful lodging.
A second Jones Cottage has been completed and is located near hole No. 4 on the Masterpiece course at the main Treetops campus.
"The first one was so popular and was always rented, so we added another and it is doing great as part of our lodging for the golfers this summer," said Kevin McKinley, assistant general manager at Treetops.
"We are making plans to build more of these cottages, up to 20 in the next two to three years. They are perfect for what we do, golf groups of eight and more if couples are involved, three bathrooms, plenty of room and great views."
McKinley said Treetops has long had a competitive advantage over competing resorts in the number of golf courses, including those designed by the likes of Jones, Tom Fazio and Rick Smith.
"We have the golf, the architects, the course conditions, all the things that give us a competitive advantage, but if anything, the one area others might have had an advantage is in this type of cottage lodging," he said. "We have the hotels, some larger condos, but not enough of the units that are perfect for two foursomes or a family like this."
Golfers are not the only group Treetops thought of when designing the units.
"The snow skiers love them, too," he said. "In the past people staying at our condominiums had to drive from Treetops North to enjoy skiing at the main resort. They will have much easier access now to the skiing when they stay in the Jones Cottages."
The new cottage and those in the planning will feature modern amenities for up to eight people with great golf views. There is space to roam, yet they are cozy and comfortable with three bathrooms, two living rooms, including one with a fireplace, a dining room and a full kitchen.
And did we mention those Gaylord Golf Mecca views?
You can learn more at treetops.com and book your next trip to play the Masterpiece and more. Make a Jones Cottage visit part of your stay in the Mecca, which features 20 golf courses. Learn more about the Mecca at gaylordgolfmecca.com.