Fall for It: Four Reasons to Visit Gaylord Golf Mecca This Fall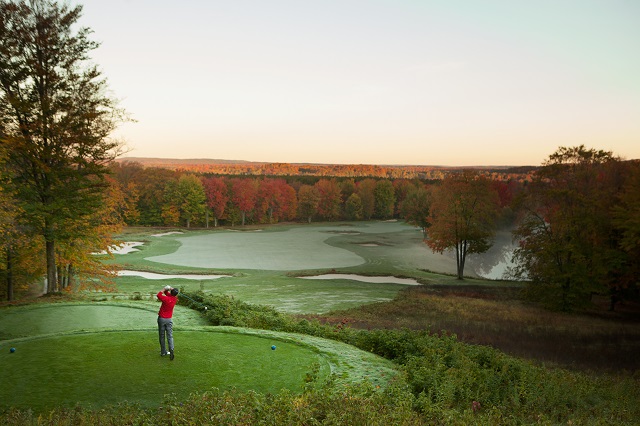 By Greg Johnson
The leaves on the trees are becoming Mother Nature's extraordinary canvas of color, and the Gaylord Golf Mecca has trees – millions of them – and we are not exaggerating. The views are incredible from almost any tee on any of the 20 golf courses in the Mecca.
Treetops Resort is named Treetops and has five courses full of them. Need we say more. The Tribute at Otsego Resort offers incredible views for miles, and again we are not exaggerating. The colors contrast with the pure blue waters on four courses at Garland Lodge & Golf Resort. You can get lost in a pile of leaves, or trees, on three courses at The Loon Golf Resort, or at Indian River Golf Club, Lakes of the North Golf Course, The Natural at Beaver Creek Resort, Michaywe'-The Pines, Gaylord Golf Club and Black Lake Golf Club. A round in the Mecca during fall is a color tour in 18 holes.
October is peak time in the heart of northern Michigan, which includes Gaylord and the surrounding area, so plan ahead accordingly for the following 4 reasons: 
1. Fall rates, as in falling rates. Play for less. The Mecca already offers a tremendous range of golf pricing among its members to match any and all price points, and they only get better in the fall. Figure out what you can afford for one last fall trip or two to the Mecca, call any of our member courses and they will make it happen.
2. It's a little less crowded here in the fall. The Mecca is popular and busy in the traditional golf weeks of the season. Once school starts we have a few more open times. You can play where and when you want likely for less. Remember, 20 courses, 20 lodging partners, five flagship resorts. Choices to play is never the problem here. Wanting to play and see them all in the fall – that's the only problem.
3. Hunting and fishing can be combined with a little golf, too. Since we are in the heart of the state and surrounded by forest land and lakes, hunters and fisherman make up many of our fall visitors as a rule. They know the best spots for their sports, which also happens to be a great time for our favorite sport. Did you know Otsego County reports as many as 30 or more Master Angler catches of Pike, Walleye and Trout in single years? Follow the lead of the guys and gals who hunt and fish. Head to the greater Gaylord area with your golf, hunting, and fishing gear.
4. Craft beer, dinner, crisp candy apples, great restaurants and more add to a day of fall golf in the Mecca. You just have to wander about a bit with help from us and enjoy the fruits of nature. In recent years Gaylord has opened up several new restaurants to go with some traditional great ones. We can help you find what you want and at a price you like. The options are many and in several cases you never have to leave the resort where you land for golf that day. We're thinking a few golf holes, perhaps chili or steak or both for dinner on a beautiful deck, a glass of locally produced wine or craft beer and a cozy lodging spot with a fireplace in the evening. We're thinking the Gaylord Golf Mecca.
Join us this fall in the Mecca. Learn more at gaylordgolfmecca.com or call 800-345-8621.