Black Lake Golf Club
Award-Winning Design, Great Conditions, Vibrant Fall Colors
By Greg Johnson
Black Lake Golf Club in Onaway, like all the golf courses that are part of the Gaylord Golf Mecca, has enjoyed a busy golf season to this point.
"It's been a good summer, and we expect a good fall, too," said Black Lake General Manager Nick Aune. "When the weather cooperates some of the best golf here is in the fall. The colors are incredible."
Black Lake, 18 miles off northbound I-75, features the award-winning golf course Architect Rees Jones designed for the UAW Black Lake Conference Center in 2000. It is one of the 17 golf courses that are part of the Gaylord Golf Mecca, and one of the favorites of those who make the pilgrimage to one of America's favorite golf destinations.
It's a classic design with imaginative bunkering, top-notch conditioning and a get-away-from-it-all feel on each isolated hole less than an hour drive from Gaylord and an hour drive from the Mackinac Bridge. Magnificent trees and views on the rolling terrain will start flashing nature's vibrant colors in the next month or so. It's great golf in living color.
The golf course is as good as they get. It has made more than one appearance on Golf Digest's "100 Greatest Public Courses in America" list and has annually made best-of lists across the board. It was designed to provide a challenge for golfers of all skill levels. Five sets of tee markers are part of most holes. The course plays from 5,058 to 7,030 yards.
"The holes were here, we just had to find them," Jones said just after the course opened in 2000. "We strive for holes blending with the natural terrain. There is nothing artificial or contrived at Black Lake. We were trying to build an old-style course. You'll notice we don't have mounds or moguls. We just have sweeps and natural grades."
Wisely, Aune and his crew have not changed a thing. They have simply kept it in outstanding shape and continued to offer top-notch service with a smile.
"Our core group of staff has been here probably 8-to-10 years each and we keep getting great reviews, great comments and returning golfers," Aune said. "Chris Elwell, our superintendent and his maintenance staff have been pretty intact and they do great work each year. We never hear anything but compliments on the golf course condition. Our golf professional, Mike Pearson, he's been here a while, too, and the shop and the golf operation is busy and running smoothly."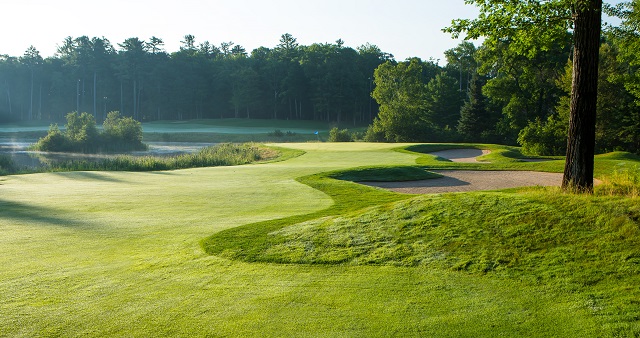 Complementing the big course is The Little Course, a nine-hole par 3 meant to introduce young people to the game as well as sharpen veteran players' short games. In addition, Black Lake also has a practice area with a 350-yard double sided bentgrass tee range, four practice bunkers and four chipping and putting greens, a clubhouse with dining room and lounge, and men's and women's locker rooms.
"We've updated and kept things great in the clubhouse, too," Aune said. "Good golf, good food, it's a good time here."
Visitors continue to visit via the Tour Golf Package that is run in conjunction with Mecca partners Gaylord Golf Club and The Pines at Michaywe.' It's loaded with multiple rounds of classic golf at amazing prices, and on Aug. 29 fall rates will kick in on that package.
As for regular rates, they will shift to fall rates on Sept. 19. Black Lake expects to stay open until Oct. 22, weather permitting.
Visit blacklakegolf.com and gaylordgolfmecca.com to learn more.