2020 Northern Michigan Golfer Magazine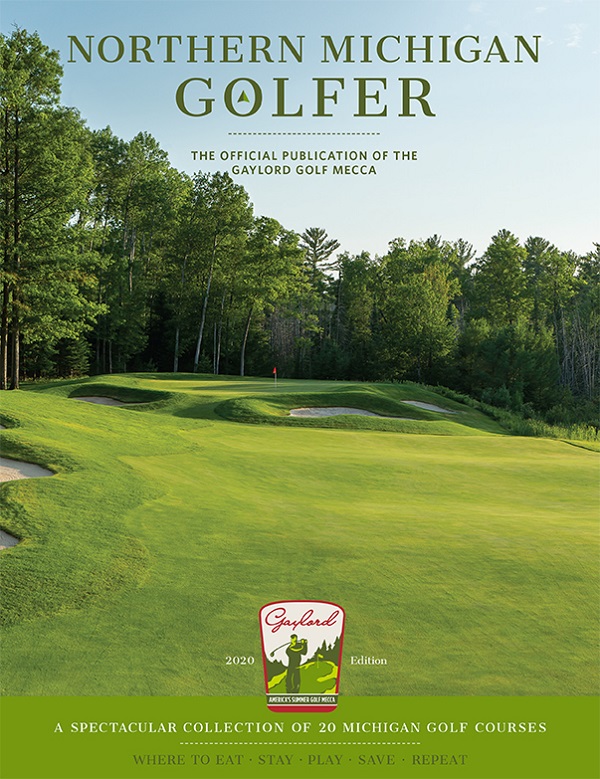 Ben Hogan once said the only thing a golfer needs is more daylight.
That's a quote off the back cover of the 2020 Northern Michigan Golfer Magazine, which is now available online at gaylordgolfmecca.com and in a printed version at various spots throughout Gaylord and the Gaylord Golf Mecca, including our Visitor's Bureau downtown.
It's unlikely Ben was thinking of the Mecca when he said those words, but they fit perfectly with what the long summer days promise in Gaylord in regard to golf and any other outdoor activity one might wish to undertake.
The 2020 Northern Michigan Golfer Magazine is the official golfer's guide to the Mecca, which in 2020 features an incomparable 20 golf courses and 20 lodging partners from which to choose.
Consider it this year's 20/20 Vision guide to golf – buddy golf, family golf, friendly golf, vacation golf, business golf, your golf of any type. Gaylord has it all as a destination, and this magazine has all one might need to know about an award-winning golf destination.
The Mecca has been a U.S. summer golf hotspot for 33 years and continues to impress and grow. A story titled 20/20 vision for 2020 will fill you in and is just the start of the magazine that is bigger and better than ever. Included you will find extensive information about each of those partner courses and more. Also, there's a complete accommodations guide and a great dining guide to excellent food.
To have a copy sent to you, simply go to gaylordgolfmecca.com, scroll down the screen until you see the green cover of the magazine and click on the request button.
You can also choose the view button and peruse the information online.
It's free, including the extra daylight Ben Hogan was talking about.
Come see us and let the 2020 Northern Michigan Golfer Magazine be your guide.
By Greg Johnson