GARLAND LODGE & GOLF RESORT
The natural backdrop of 3,000 acres of unspoiled Michigan wilderness provides a perfect setting for Garland's four championship golf courses.
Rolling meadows, lakes, streams, mature hardwoods, and towering pines are the backdrops to challenges that delight golfers of all abilities. You'll see plenty of birdies and eagles at Garland even if they are not on your scorecard. In fact, we have bald eagles nesting on our courses, as well as hawks and wild turkey. You'll love the way Garland's golf courses weave their way through the pristine terrain teeming with wide wildlife. Each hole at Garland has its own unique character and design, combining many classic features with some innovations not found on other courses. For example – both the Fountains and Reflections layouts offer the unique combination of six par 3s, 4s, and 5s, increasing both your chance for a hole-in-one and birdies!
FOUNTAINS
Garland's newest course opened in 1995. It experienced a redesign in 2010 by Michael Benkusky whose work includes the famed Canyata Golf Club in Marshall, Illinois. Do not let the length fool you — strategy is required to approach shots on the very undulaing green complexes. Featuring bent grass from tee to green, Fountains was ranked as the number 12 course in Michigan by Golf Advisor in 2017. Immaculately conditioned, this course offers a unique 6-6-6 design, with several par 5's offering dramatic risk and reward opportunities
MONARCH
Garland's longest course is a true championship test of golf. Very large green complexes and wide fairways allow you to "grip it and rip it" although the northern Michigan forest lurks not far off. Monarch is a traditional layout with an excellent blend of length and risk and reward holes. Greens are well bunkered on most holes. There is also a great mix of left and right doglegs. Monarch is used for most member championship tournaments.
REFLECTIONS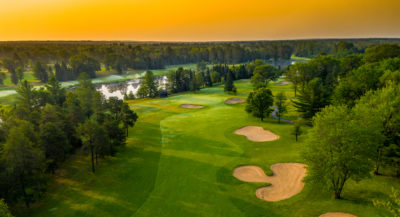 Reflections may be the shortest of Garland's four courses, but do not let length fool you. Routed through a northern Michigan hardwood forest, Reflections requires accuracy off the tee. Par 5's require strategic thought before your tee shot for best placement of either going for the green or laying up. Playing during September and October offers a beautiful ride through the fall colors of Michigan. Reflections also features six par 3's, 4's and 5's. Several of the Par 3 holes are iconic. Green complexes are well bunkered with subtle undulations.
SWAMPFIRE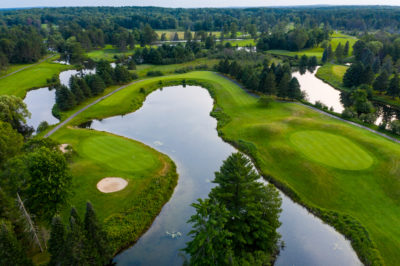 With water visible on 15 of 18 holes, Swampfire is designed to visually intimidate the player, although on many holes water doesn't come into play. Par 5's require strategy on the second shot. Offering a unique design, Swampfire features five Par 3's and 5's to go with 8 Par 4's. Several Par 4's offer excellent risk and reward opportunities. You won't find many tee complexes like number 5 with its horseshoe shape around a pond and offering shots from 100 to 180 yards from a variety of angles. Generous fairways offer a great blend of both left and right doglegs and green complexes again require study with very subtle breaks.